mbg Assistant Beauty Editor
By Hannah Frye
mbg Assistant Beauty Editor
Hannah Frye is the Assistant Beauty Editor at mindbodygreen. She has a BS in journalism and a minor in women's, gender, and queer studies from California Polytechnic State University, San Luis Obispo. Hannah has written across lifestyle sections including health, wellness, sustainability, personal development, and more.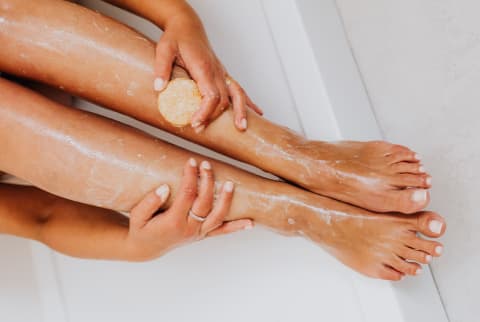 Image by Karolina Grabowska / Pexels
Our editors have independently chosen the products listed on this page. If you purchase something mentioned in this article, we may earn a small commission.
June 21, 2022
If you've ever had an ingrown hair, you know the drill: It's red, uncomfortable, lasts a few days too long, and might even leave behind a dark spot. These pesky, pimple-like bumps happen to everyone. Here's the good news: There are things you can do to both prevent future ingrowns from forming and treat those that are already present.
We consulted the experts to learn a bit more about what these bumps are, what to look for in treatment products, some of the best options, and how to avoid getting more in the days to come. It's time to kick-start your smooth, bump-free shave experience. Let's get into it.
What are ingrown hairs?
While the name in itself is fairly self-explanatory, here's a technical explanation: "Ingrown hairs are caused by hairs that get stuck under the top layer of the skin," board-certified dermatologist at Schweiger Dermatology Jeremy Fenton, MD, told mbg.
Not all ingrown hairs are the same, though. "Sometimes it is due to having curly hair that grows back into the skin, which is a condition called pseudofolliculitis barbae. More traditionally, it is referring to hairs that are trying to get to the surface but never make it through and continue growing under the skin," Fenton explained.
The latter can cause redness and inflammation, which may look like a pimple on the surface. While some ingrown hairs may be small and pass on their own, others can result in significant irritation and inflammation, which may lead to scarring, especially for those with darker skin tones.
"Darker skin tones can easily develop dark spots and pigmentation due to the inflammation caused by ingrown hairs. So care should be taken not to aggravate the area too much," clean cosmetic chemist Krupa Koestline told mbg.
As we said, prevention is everything when it comes to ingrown hairs. Board-certified dermatologist Rebecca Marcus, MD, led the way on our search: "Gentle exfoliation can be helpful in preventing ingrown hairs," she said. To gentle exfoliation, we go.
How we picked up:
These products contain only gentle naturally derived or safe synthetic ingredients that have been proven to improve skin health. This way, you can treat your ingrowns without worry.
We know ingrowns pop up in many different places, so we selected a few options for each area of ​​the body. In addition, we selected picks that work wonders for curly-hair-induced ingrown hairs with authenticated user reviews.
We've tested some of these products ourselves so we can give you authentic recommendations. When this wasn't possible we looked at certified customer reviews and expert suggestions.
We asked dermatologists and cosmetic chemists what to look for in the best ingrown treatments. We included some of their recommendations and used their expertise as a guideline for selecting these options.
mbg's picks for best ingrown hair treatments 2022:
Pro
May help treat active ingrowns
Con
Not the best for sensitive skin
Lifestyle considerations: Vegan, Cruelty-free, Helps brighten dark spots, Safe for pubic area
This serum plays two roles: It's A+ for preventing ingrown hairs but also offers a gentle treatment for them once they've arrived. It contains two different exfoliators: Willow bark extract (a natural form of salicylic acid) and lactic acid, which will help brighten the skin as well. Witch hazel works to tighten pores and reduce redness, while aloe vera soothes irritated skin and offers a much-needed boost of hydration for skin that's just been shaved or waxed.
Best scrub: SkinFix Resurface + Glycolic and Lactic Acid Renewing Body Scrub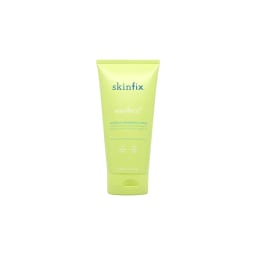 Resurface + Glycolic and Lactic Acid Renewing Body Scrub
VIEW ON Sephora | $32
Pro
Physical & chemical exfoliant
Lifestyle considerations: Vegan, Cruelty-free, Helps brighten dark spots
As we mentioned, scrubs are great for preventing ingrown hairs. While you wouldn't want to take a harsh scrub to the face, a gentle alternative can offer a physical exfoliation that can help prevent ingrown hairs. This one by SkinFix includes glycolic and lactic acid as well, serving as a chemical exfoliant too. This is a great option for the body and may be great for those with keratosis pilaris (commonly called KP or chicken skin) as well.
Con
Contains fragrance for those who avoid it
Lifestyle considerations: Cruelty-free, Safe for sensitive skin, Helps brighten dark spots
When it comes to facial exfoliation, you should be particularly careful not to use any exfoliants that are extra-strong, as the moisture barrier on your face could become compromised. For those who shave and worry about ingrown hairs on the face, this aftershave is a great follow-up. It's formulated with natural botanical oils including rosemary oil (which has been proven to increase hair growth). Vitamin A works to exfoliate the skin, vitamin C helps brighten the complexion, and vitamin E works alongside allantoin to smooth and hydrate. The result? A clean, hydrated finish, sans ingrown hairs and inflammation.
Lifestyle considerations: Vegan, Cruelty-free, Safe for sensitive skin, Helps brighten dark spots, Safe for pubic area
This one is just as affordable as it is effective. The formula contains willow bark extract and lactic acid to exfoliate the skin and ease redness. Bisabolol helps reduce irritation, which is perfect for ingrown spots caused by shaving (aka razor bumps). You can use this treatment as spot prevention as well to get ahead of any frequently troublesome areas. It's a small tube, but that's because you only need a tiny amount to see a significant improvement in the visible appearance of your ingrown.
Con
Doesn't treat active ingrowns
Lifestyle considerations: Vegan, Cruelty-free, Safe for sensitive skin, Safe for pubic area
Dry brushing has tons of benefits for the skin. Not only does it increase circulation, but it also offers a gentle exfoliation for the body. As you know, this is key to preventing ingrown hairs. If your skin is sensitive to chemical exfoliants like AHAs and BHAs, a dry brush is a perfect alternative. You can use this on the entire body, bikini area included (avoid the face, though). Simply run the brush over your skin before stepping in the shower, and be sure not to press too hard—the bristles do the work for you.
Lifestyle considerations: Vegan, Cruelty-free, Safe for sensitive skin, Helps brighten dark spots, Safe for pubic area
When it comes to the bikini line, you'll want to avoid anything that could interrupt your pH. Although it shouldn't ever get close enough to reach your pH-sensitive skin, it's better to be safe than sorry. This one from Lady Suite is perfect for this. This spray can be used weekly to combat ingrown hairs, razor bumps, and even post-inflammatory hyperpigmentation that may have come from past ingrown hairs. The formula is gentle yet effective and pH-friendly.
Con
Contains fragrance, for those who avoid it
Lifestyle considerations: Vegan, Cruelty-free, Safe for sensitive skin
This one is phenomenal for shave prep because it hydrates the skin beautifully. In the shower, apply this stick formula liberally until you feel the soft serum-like texture on your skin. There won't be a big lather, just a smooth feeling. Then go ahead and shave as you normally would. You can use this as a moisturizer for sensitive areas as well. While this is great for preventing ingrown areas while you shave, you should double up with another option to exfoliate before the shave begins for best results.
Pro
Helps with uneven tone and texture
Con
Shouldn't be used on pubic area
Lifestyle considerations: Vegan, Cruelty-free, Helps brighten dark spots
This one is a holy-grail body product. You can apply this serum to the whole body (aside from the pubic area) and follow up with a high-quality moisturizer to keep your moisture barrier balanced. I use this one myself, and here's what I do: A day or two before I plan on shaving, I'll lather this serum on, let it dry, and then put on a body lotion. Then when shave day comes, I'm prepped and ready to go. I would avoid putting this serum on right after shaving as it's unnecessary and may result in some tingling, as all exfoliating products will post-shave. Bonus: If you use self-tanner, this is a great product to use the day before you tan.
Best for underarms: Topicals High Roller Ingrown Hair Tonic
High Roller Ingrown Hair Tonic
VIEW ON Sephora | $26
Pro
Helps treat curly hair ingrowns
Cons
Not the best for hypersensitive skin
Lifestyle considerations: Vegan, Cruelty-free, Helps brighten dark spots, Safe for pubic area
The armpits are a sensitive area, and you don't want to be scrubbing away at that skin too much. This roller stick contains salicylic and glycolic acid to penetrate pores and target bump-causing buildup. Zinc PCA minimizes the appearance of skin irritation as well. The reviews for this product are glowing with praise, especially for curly hair-induced ingrowns and easing skin texture. This formula can also be used as a dark spot treatment to help lighten any previous ingrown hair spots.
Con
Not the most sustainable option
Lifestyle considerations: Vegan, Cruelty-free, Helps brighten dark spots
"AHA/BHA exfoliating pads from First Aid Beauty will do the trick," Marcus said. This is a dermatologist-backed tip, so if you're looking for something with ideal ingredients, this is it. These alcohol-free pads gently exfoliate the skin, while aloe vera soothes and replenishes hydration. These are free of drying alcohols and fragrance, so they're great for the bikini line. These pads were designed to be used 24 hours after hair removal on the face or the body.
What causes ingrown hairs?
"Things that increase the risk of ingrown hairs include waxing, plucking, and shaving close to the skin," Fenton said. This is exacerbated when you're removing hair from skin that hasn't been exfoliated.
While you don't need to exfoliate every single day, you should try to slough off dead skin cells before taking a razor, waxing strip, or tweezers to your skin. This way, the hair can come out with ease and you can shave closer without worry.
"Also, keeping the area moisturized and lubricated before shaving can help prevent these," Koestline added. Using products like shaving cream or gel can be extremely helpful.
In addition to prepping the skin, properly lubricating it, and following up with moisturizer, you should use a high-quality razor and change it frequently. Using dull razors can also contribute to ingrown hairs and an overall less effective shave.
The takeaway.
Ingrown hairs can be painful and uncomfortable, especially in sensitive areas. Luckily, there are a bunch of clean treatments and preventive products on the market to help you avoid these pesky spots. It's best practice to have a shaving tool kit as well, including a high-quality razor (here are some of our favorites). Like we said before, once an ingrown hair causes significant discomfort, you should consult a dermatologist to treat the spot to prevent scarring or complications.